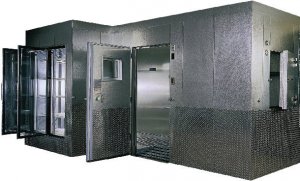 It is easy to take your walk-in freezer for granted – until it suddenly stops working on a hot afternoon. Losing the use of your walk-in freezer can bring your business to a sudden halt, which is why it is important to have a reliable repair service close at hand. Conner's Cold Services is proud to work with clients throughout the Palm Beach area, and we have the combination of experience and knowledge necessary to bring your walk-in freezer back up and running in no time at all.
An Expensive Problem
Depending on the size of your business, there is a good chance that a large portion of your current inventory is sitting in the walk-in freezer. Losing that inventory is going to be an expensive problem, not to mention the money that is lost while you are out of commission. Trusting this repair to someone with the right experience is a risky proposition, and one which could wind up costing you even more money in the long run. Conner's Cold Services has been serving the local community for years, so you can plan on us handling this job with ease.
A Long List of Possibilities
It is important to have an experienced repair professional on your side because of the many ways in which a walk-in freezer can go wrong. There could be electrical issues related to something like a blown fuse, or you could have a refrigerant leak somewhere along the line. Other possible problems include ice build-up, a clogged drain, and more. There are simply too many potential problems for this issue to be handled by anything less than an experienced pro.
Staying Head of the Game
Prompt repair is important when your walk-in freezer goes down, as you will want to save as much of your inventory as possible while remaining open for business. Even better than prompt repair, however, is simply avoiding a breakdown in the first place. With regular maintenance by Conner's Cold Services, you may be able to avoid running into trouble. With a properly functioning walk-in freezer, you will be able to serve your customers without any interruption.
Opting for a Replacement
At some point, even the best repair professional is not going to be able to squeeze any more life out of your walk-in freezer. If your freezer needs to be replaced, Conner's Cold Services would be happy to handle that task for you as well. We will offer you honest advice with regard to whether or not you should continue to repair an old machine. In some cases, the better financial choice is simply to replace the unit before the repair bills add up. You can count on us to provide you with an honest, expert opinion on this topic.
It's All About Service
In addition to offering expertise in this field, Conner's Cold Services also provides each of our customers with excellent service from start to finish. We feel fortunate to be serving your business, and we will never take you for granted. No matter what kind of work we are doing, each customer is met with the same friendly attitude that has served us well throughout our many years in business.
If you operate a business in the Palm Beach area with a walk-in freezer, Conner's Cold Services would love to be your service provider. We are proud to serve many locations throughout the area, including Loxahatchee, West Palm Beach, Boca Raton, and many more. To get started, please call us at 561-723-9097 right away to schedule your no-obligation, no-cost consultation. We hope to speak with you soon!