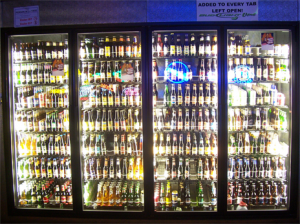 If your business serves beer, it needs to serve that beer cold. Obviously, you aren't going to get very far serving warm beer to thirsty customers. With that in mind, a properly functioning beer cooler is one of the most valuable assets you can have on hand while open for business. In addition to keeping beer cold, these beverage coolers can maintain a tasty temperature for many other drinks. Should you have a need arise for any kind of beer cooler maintenance or repair, please contact Conner's Cold Services right away. Our team will be happy to offer a no-obligation consultation.
A Disappointing Surprise
The first indication you have that something is wrong with your beer cooler may be when you open the door to retrieve a drink for a customer. If the air doesn't feel cold when you open the door, or if the beverage feels warmer than it should, you will know immediately something is wrong. Don't ignore this issue and hope that it will resolve itself. It won't. To keep business running smoothly, you will need to have the cooler serviced right away. With any luck, the problem will be a minor one, and you can get back to serving cold drinks in short order.
Value the Maintenance Process
Many businesses simply ignore their appliances until something goes wrong. It is easy to understand the temptation to use this approach, but this approach can also get you in trouble. Not only can the loss of an appliance cause you to lose business, but you may rack up large repair bills along the way. Consistent maintenance of your machines is a better plan. An experienced team such as Conner's Cold Services can make sure that your appliances are getting the care they need on a regular basis. While this won't guarantee that a break down won't occur, it will give you the best possible chance to avoid such an issue.
We Know Cold
With something as important as your beer cooler, you don't want to take any chances. Trusting this repair work to an inexperienced company may just result in headaches and wasted money. Avoid that outcome by dealing with Conner's instead. We have tremendous experience in this business, and we have been serving loyal customers throughout the Palm Beach area for years. In addition to beer coolers, we can also work on ice machines, walk-in coolers, walk-in freezers, and more.
Cold beverages are one of the core offerings of any food and beverage operation. Even if you serve the tastiest food in the world, your customers are going to leave disappointed if they can't have a cold drink to go along with it. For that reason, taking good care of your beer coolers should be one of your top priorities. For any maintenance or repair needs, feel free to call Conner's Cold Services at your convenience. We are happy to serve locations around the region, such as Boca Raton, West Palm Beach, Jupiter, Loxahatchee, and many more. Thank you for spending a few minutes learning about our services, and we look forward to your call!