Residential Air Purification
According to the EPA indoor air is often five times more polluted than outdoor air.  Problems include odors, toxic chemical vapors, as well as mold, bacteria, viruses, and allergens. Because they all pass through the central air system a whole-house air purifier from Fresh-Aire UV offers homeowners a practical and cost-effective solution.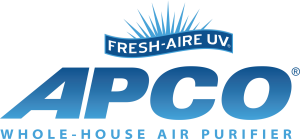 APCO – DETOX THE AIR
The award-winning APCO system (Advanced Photocatalytic Oxidation) represents an entirely new type of air purifier. APCO is installed in the ductwork of the central air system where it scrubs the air as is passes by. APCO's unique combination of UV-C light and activated carbon achieves  unmatched germ and odor reduction without producing any harmful ozone. APCO is particularly effective at reducing odor-causing volatile organic compounds (VOCs) which include toxic chemical vapors like formaldehyde and toluene.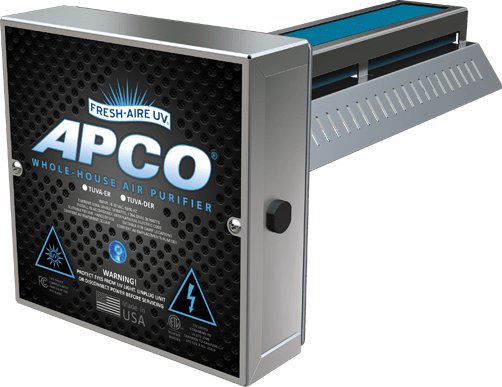 Blue-Tube UV is the single most popular germicidal UV light product for HVAC systems in the world. Home owners breathe easy knowing that the air their family breathes is protected by this proven technology. Blue-Tube UV is the simple, safe, and effective way to keep your air system clean and improve indoor air quality.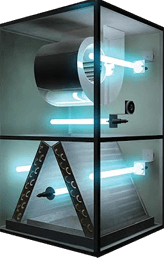 COMMERICAL AIR PURIFICATION
For over 10 years building owners have achieved significant savings on HVAC maintenance and improved indoor air quality with Fresh-Aire UV Commercial Series UVGI (ultraviolet germicidal irradiation) products. We offer practical solutions for all industrial, medical, retail, and hospitality applications.
Biological fouling (usually caused by mold) is a common problem in commercial air handlers. The cool, moist interior of the air system is an ideal breeding-ground for mold. A biofilm of only 0.002" can reduce efficiency by 37%! Unfortunately the conventional cleaning  procedures used to kill mold are expensive, labor intensive, and use harsh chemicals which are themselves a source of environmental contamination and a health risk to maintenance workers.
The good news is that UVGI is proven to sterilize cooling coils continuously, 24/7, safely, and cost-effectively. The Fresh-Aire UV Commercial Series Standard "L" System, Tubular Rack System, and APCO Rack System are all designed to stop biological fouling on the coils and will quickly pay for themselves in energy and maintenance savings. The Fresh-Aire UV Commercial Series Standard "L" System and Tubular Rack System are both ideal for coil disinfection. The APCO Rack System reduces odors and VOCs in addition to disinfecting coils.Smaller commercial air systems (up to 7.5 tons) can use one of the AHU Series 1 products for coil disinfection.