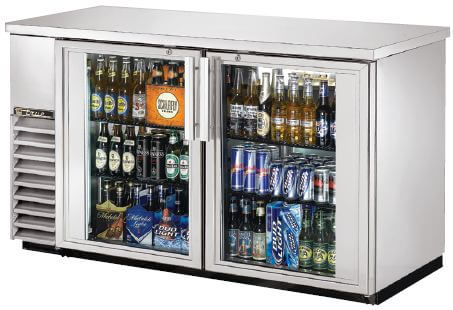 The bar cooler is a common sight on the property of any food and beverage operation. Despite its name, you don't even have to be operating a bar to put one of these units to use. Nearly every commercial venture serving any kind of drinks is going to have at least one bar cooler on hand. This handy appliance is likely one of the keys to providing your customers with great service, so you certainly wouldn't want to be without it for long. If you are having trouble with one of your bar coolers currently, please call Conner's Cold Services right away for a repair.
Missing the Mark
With a bar cooler, it is important to have the unit working at just the right temperature. While you would first think of the machine running too warm as being the main problem you could encounter, you don't want it to run too cold, either. A bar cooler which continues to freeze the beverages placed inside will do your business far more harm than good. This is a problem which can be caused by a faulty thermostat. Regardless of whether your cooler is running on the warm or cold side, bring in Conner's Cold Services to dial it back into the perfect range for your needs.
Pay Close Attention
Even if you don't know how to repair appliances such as bar coolers, you are still a key piece of the puzzle when it comes to maintaining your equipment. Since you are around this equipment each day, it is your duty to pay attention and take note when anything seems out of place. Is the cooler coming on and turning off far more often than usual? Is there surprisingly warm air coming from the unit? When anything starts to behave out of the norm, you can bet that something has gone wrong mechanically. And, the sooner you address this problem by bringing in a professional repair team, the sooner you can get back to business as usual.
We Get In and Out
Of course, our first priority is always to finish a maintenance or repair project properly. You can be sure that we will never sacrifice the quality of our work for speed or any other reason. However, with that said, we do work efficiently in order to get out of your way as soon as possible. Thanks to our many years of experience in this field, we are able to handle most standard jobs in a prompt fashion. With your bar cooler back up and running, we will be on our way and you can resume regular activities with minimal interruption.
Covering the Region
If you do business anywhere in the greater Palm Beach, FL, area, there is a good chance that Conner's Cold Services will be able to help with your bar cooler repair and service needs. We cover a large territory along the Atlantic coast, including locations like Loxahatchee, North Palm Beach, Lantana, Jupiter, Boca Raton, and more.
When your bar cooler is giving you trouble – whether it has broken down completely or is just making a 'funny' noise – the first thing you should do is call 561-723-9097. We are proud to offer free no-obligation consultations, and our commitment to customer service will be evident from the very first phone call. Thank you for stopping by!