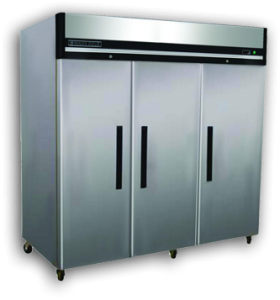 It would be virtually impossible to run a restaurant without a properly working commercial refrigerator. In fact, many food and beverage businesses have more than one refrigerator in order to hold all of their inventory. To make sure you can serve your valuable customers day after day, you need to maintain the condition of your fridges. That's where Conner's Cold Services comes into the picture with our excellent commercial refrigerator repair professionals.
The team at Conner's Cold Services has years of experience in this business. We have worked with countless Palm Beach, FL, area clients – both commercial and residential – over the years, so you can count on us to do the work properly.
Maintaining a Safe temperature
The most important job of a commercial refrigerator is to keep food at a safe temperature before it is cooked or served. Also, these units are routinely asked to keep beverages cool so they will be enjoyable for customers. No matter what happens to be in your commercial refrigerators, Conner's Cold Services can help you make sure they are doing their job successfully. Our routine maintenance will care for all of the important working parts of the unit. And, should something happen to go wrong, we will make the necessary repair promptly to minimize downtime.
A Long List of Possibilities
If your refrigerator is no longer staying cold enough to do its job, you will immediately know something is wrong. But what could be the culprit? Unfortunately, there is a long list of possibilities, which is why you need the help of a pro right from the start. It could be a broken thermostat, a bad gasket around the door, or one of a number of other problems. The fridge can't be fixed until the problem is diagnosed, so call us out right away for an inspection of the appliance.
You don't necessarily have to wait until the refrigerator is no longer cool before calling our office. Another sign of trouble is strange sounds coming from the machine. If you are used to working near this appliance day after day, and it is now making sounds you don't recognize, it is likely that mechanical trouble is right around the corner. Get ahead of the game by having Conner's Cold Services come out and correct whatever it is that has gone wrong.
Satisfaction on Three Key Points
Thanks to our years of experience in this field, we know that you are mostly concerned with being satisfied on three key points. The work needs to be done correctly, it needs to be done in a timely manner, and it needs to be done for a reasonable price. We work hard each day to hit on all of these points for our customers. Rest assured that we are dedicated to your complete satisfaction, no matter how large or small the job may be.
For maintenance or repair on a commercial refrigerator in the Palm Beach area, please call Conner's Cold Services at 561-723-9097 right away. When you call, we will offer a no-obligation consultation to get started with the process of solving your problem. Our service area is wide-ranging, including spots such as Palm Beach Gardens, West Palm Beach, Loxahatchee, Boca Raton, and more. We appreciate your time, and we look forward to serving your business soon!