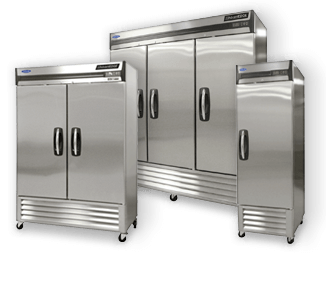 Reach-in freezers
are popular in commercial settings, as they offer significant storage space to keep a restaurant running properly. However, they are not always the right choice for the job. If you are running a smaller operation – or if you have a walk-in freezer and still need more space – you may add a reach-in freezer to your setup. This appliance is exactly like it sounds, as you can simply reach in to add or remove items. Should you happen to have problems with a reach-in freezer at your business, Conner's Cold Services is the right repair team for the job.
Reliable, But Not Perfect
Modern reach-in freezers are very reliable, especially if you provide them with regular maintenance to prevent common problems. However, like all mechanical products, they are prone to breaking down from time to time. Some of the potential issues you could run into with your reach-in freezer include thermostat problems, loss of power, ice buildup, and more.
Preventive maintenance is one of the best things you can do for a commercial reach-in freezer. Before repair is required, contact Conner's Cold Services to set up a maintenance schedule that will help keep your appliance on track for a long and productive life. Of course, if something has already come up, it is too late for that approach. Either way, Conner's is the right team for the job. We have many years of experience in serving businesses in the Palm Beach, FL, area, and we would love to work with you as well.
Save That Inventory
Even though a reach-in freezer will not hold as much inventory as a walk-in model, you could still have thousands of dollars in product sitting in this appliance waiting to be used. If the unit goes down for some reason, that money could be lost in the process. Prompt repair is essential in order for you to save as much of the inventory as you can. Conner's Cold Services never cuts corners in the work we do, but we are aware that time is money in this case. We will make our best effort to finish the job in a timely manner, while always making sure the repair is done properly.
No-Obligation Consultation
We understand that items like reach-in freezers are complicated machines, and the average person doesn't understand how they work or which parts are prone to going down. For that reason, we are proud to offer free, no-obligation consultations to help you understand your issues. When you speak to a member of our team, we will be glad to listen to the issues you are having before recommending a course of action. To get started, simply give us a call at 561-723-9097.
If your business is located anywhere in the greater Palm Beach area, there is a good chance that you fall within our service range. We are able to visit many different cities in the region, including Lantana, Riviera Beach, Jupiter, Loxahatchee, Boca Raton, and more. As soon as you start to notice signs of a problem with your reach-in freezer, give us a call so we can take immediate action. Thank you for your time!