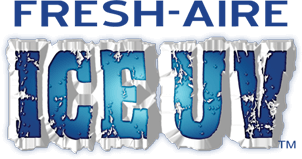 Now ice machine maintenance is easier, safer, and more cost-effective thanks to the award winning ICE UV germicidal UV light system from Fresh-Aire UV. ICE UV works continuously to kill germs before they become established, reducing the need for frequent cleanings. The UV-C lamp is designed to produce just the right amount of UV-C light; enough to kill germs inside the ice machine without damaging plastic materials inside. ICE UV offers you the following benefits:
Saves money on ice machine maintenance
Works continuously to keep ice machines clean
Effective against mold, bacteria & viruses
Reduces health risks from dirty ice
Cleaner, clearer ice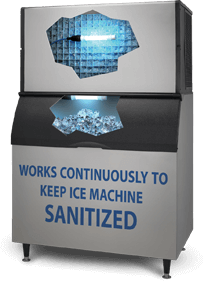 Mount the Fresh-Aire Ice UV above the ice bin if the ice is often handled by employees.
ICE UV MINI™ is the perfect solution for controlling slime inside ice machines. The cool, dark, moist interior of countertop ice & water dispensers (sometimes called flakers) is an ideal breeding ground for bacteria, mold and viruses. Ice UV Mini™ operates 24/7 and does not require annual maintenance, except for a simple lamp change once a year.  ICE UV MINI offers you the following benefits
Saves money on ice machine maintenance
Works continuously 24/7
Effective against mold, bacteria & viruses
Reduces health risks from dirty ice
A green no-chemical technology